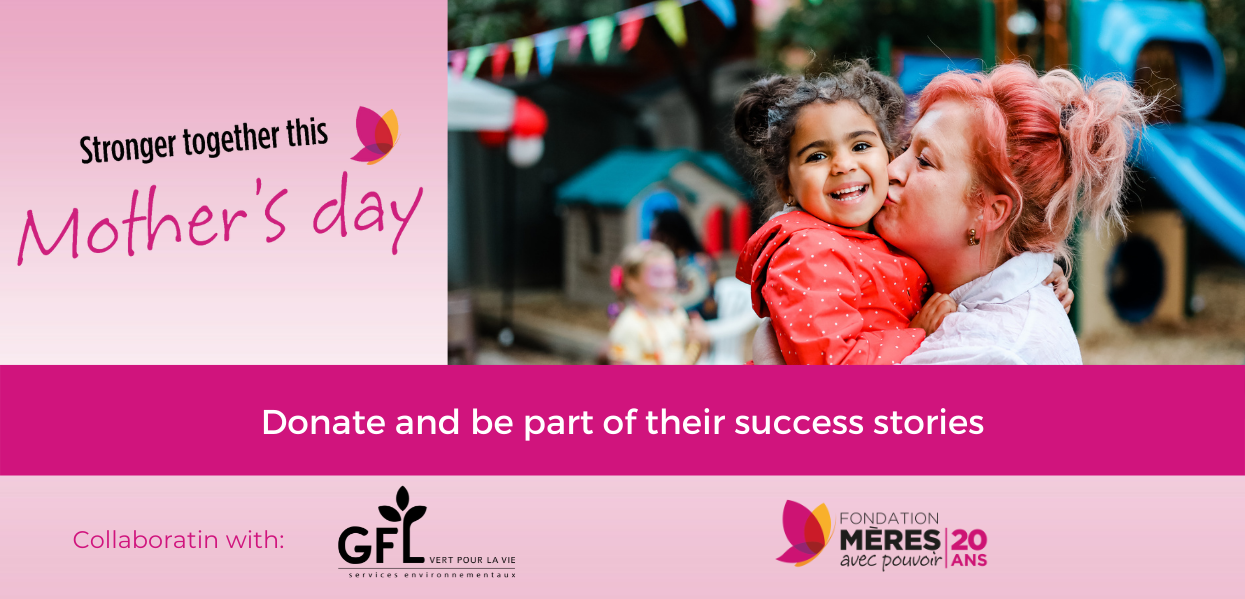 Join the festivities with Mères avec pouvoir and be part of its history!
At Mères avec pouvoir, we make it a priority to honor every mother and particularly the ones who live at the organization's headquarters. Therefore, we invite you to participate in the 3rd edition of our campaign, Stronger together this Mother's day!

Help us reach our objective of 50 000$!
There will be a great fundraising campaign throughout the month of april during which we'll pay tribute not only to the women of our organization but to every mother at heart.
Giving will allow you to:
Contribute to breaking social isolation of women and children thanks to a supportive network;
Collaborate to the mother's diplomation success by ensuring a professional presence;
Give a security net as well as a caring environment to the children;
Contribute to the autonomy and empowerment of the mothers!
20 years of accomplishment is worth celebrating!
In addition to celebrating Mother's day, we are launching the Mères avec pouvoir Foundation's 20th anniversary. 20 years of history... that enables a lot of strength and empowerment! To underline this important event, 50 gift baskets will be handed over to the first 50 donators of 500$ and more. Luxury items, gourmet surprises and exquisit delicacies will definitely please an exceptional woman!
On behalf of the Board of Directors of the Mères avec pouvoir Foundation_, the entire team and the families, we thank you warmly!__
Explore our inspiring mother's histories!!
Every year, the Mères avec pouvoir Price is given to three mothers of our organization who stood out as women, mothers, citizens and students. Meet them in the videos below (in french):
Donate

A message to all our donators :
The Simplyk platform offers you the possibility to add a tip. If you do not wish to add a tip, in the confirmation message, simply choose Other from the drop-down menu, then enter $0 or the amount of your choice.


Sponsor
Thank you for your generosity!